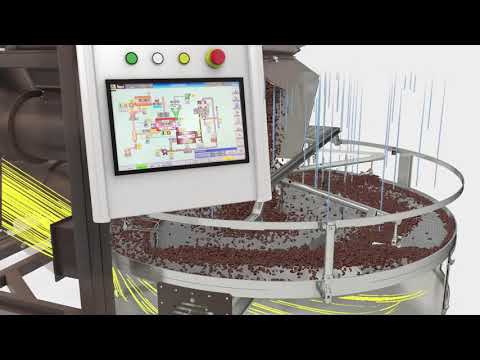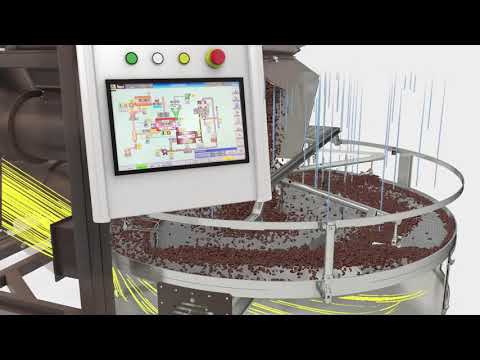 IMF Roasters SHOP ROASTER RM6
This product has options
Subscribe for price change notifications for this product
IMF shop roasters are ideal for micro and artisanal specialty roasteries, especially for operators and coffee lovers continuously researching and developing new taste profiles and aromas to improve quality. The compact design allows easy installation, also where available space is limited, and the particular recirculation of hot air system – together with the single heating chamber with double function - allows you to generate the energy necessary for the roasting process while reducing emission levels at the same time.
VORTEX
Thanks to the patented VORTEX system, the generated hot air is mixed with fresh air to reach accurate temperature control in the roasting drum for a perfect and consistent roasting process.
The internal air partition conveyance system allows the heat to be equally distributed internally and externally of the roasting chamber, ensuring a uniform heat transfer to each single coffee bean, for gentle and perfect roast.
All IMF roasters are fully automatic, with proprietary roasting software, possibility to operate in semi-automatic mode and connectable to auxiliary roasting softwares.
IMF Roasters
Since 1994 IMF has been designing and building roasting machines and turn-key industrial plants for coffee processing, focusing on innovation and sustainability. In line with nowadays environmental and energy requirements, the Occhiobello company presents a specific air roasting technology reducing emissions to the atmosphere and ensuring control, constancy, precision, cleanliness in the coffee roasting process.
Characterized by an innovative thermodynamic cycle allowing recovery and recirculation of clean hot air, IMF roasters ensure energy savings, sensitivity in the treatment of raw material, production reliability and consistency, ideal for installations in urban contexts where restrictions are more binding.
Thanks to its sustainable products and efficient business management, in recent years IMF has established itself as a reference brand in both quality and industrial roasting at international level.
Countries to which the seller delivers his products:
Abkhazia
Afghanistan
Aland Islands
Albania
Algeria
Andorra
Angola
Anguilla
Argentina
Armenia
Aruba
Australia
Austria
Azerbaijan
Bahamas
Bahrain
Bangladesh
Barbados
Belarus
Belgium
Belize
Benin
Bhutan
Bolivia
Bosnia & Herzegovina
Botswana
Brazil
Brunei Darussalam
Bulgaria
Burundi
Cambodia
Cameroon
Canada
Chad
Chile
China
Colombia
Costa Rica
Cote d'Ivoire
Croatia
Cuba
Cyprus
Czech Republic
Denmark
Dominica
Dominican Republic
Timor, East
Ecuador
Egypt
Eritrea
Estonia
Ethiopia
Fiji
Finland
France
Gabon
Haiti
Gambia
Georgia
Germany
Ghana
Gibraltar
Greece
Greenland
Grenada
Guadeloupe
Guam
Guatemala
Guinea
Guinea-Bissau
Honduras
Hong Kong
Hungary
Iceland
India
Indonesia
Iran
Iraq
Ireland
Israel
Italy
Jamaica
Japan
Jordan
Kazakhstan
Kenya
Kiribati
Korea
Korea, D.P.R.
Kuwait
Kyrgyzstan
Lao P.D.R.
Latvia
Lebanon
Lesotho
Liberia
Libyan Arab Jamahiriya
Liechtenstein
Lithuania
Luxembourg
Macedonia
Madagascar
Malawi
Malaysia
Maldives
Mali
Malta
Mauritania
Mauritius
Mexico
Micronesia
Moldova
Monaco
Mongolia
Montenegro
Morocco
Mozambique
Myanmar
Namibia
Nepal
Netherlands
New Zealand
Nicaragua
Niger
Nigeria
Norway
Oman
Pakistan
Panama
Paraguay
Peru
Philippines
Poland
Portugal
Qatar
Romania
Russia
Rwanda
San Marino
Saudi Arabia
Senegal
Serbia
Singapore
Slovakia
Slovenia
Somalia
South Africa
Spain
Sri Lanka
Sudan
Sweden
Switzerland
Syrian Arab Republic
Tajikistan
Tanzania
Thailand
Togo
Tunisia
Turkey
Turkmenistan
Uganda
Ukraine
United Arab Emirates
United Kingdom
Uruguay
USA
Uzbekistan
Vatican City
Venezuela
Viet Nam
Western Sahara
Yemen
Zambia
Zimbabwe